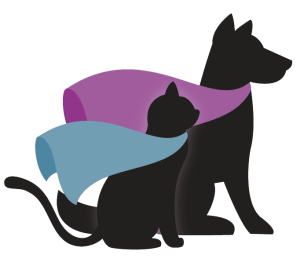 BEST MEDICINE. BETTER VALUE.
PROUDLY MADE IN THE USA
REVOLT® TOPICAL SOLUTION
Revolt® is a Once-a-Month topical that is safe & super easy to apply with no mess or greasy formula. Helping to protect against heartworms, fleas, ear mites & other harmful parasites in cats & dogs!

TICKS
Ticks can carry multiple diseases at once, including Lyme disease, anaplasmosis, babesiosis & more.

FLEAS
Fleas can consume 15 times their own body weight in blood and lay up to 2,000 eggs which can cocoon for months!

HEARTWORMS
Heartworms are transmitted by infected mosquitoes, can grow up to 14 inches in length and live 5-7 years. A single host can carry 250 heartworms, which can cause severe health issues and even death.

EAR MITES
Ear Mites can cause serious ear infections and even partial or complete hearing loss if untreated.

ROUNDWORMS
Roundworms can cause discomfort, diarrhea, pain and intestinal blockage & commonly affects 25%-75% of kittens and cats.

HOOKWORMS
Hookworms use their hook-like teeth to attach to the small intestine, feeding on blood, and can lay 30,000 eggs per day.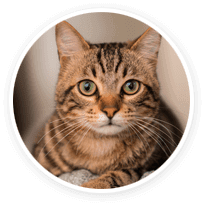 For Cats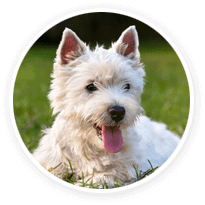 For Dogs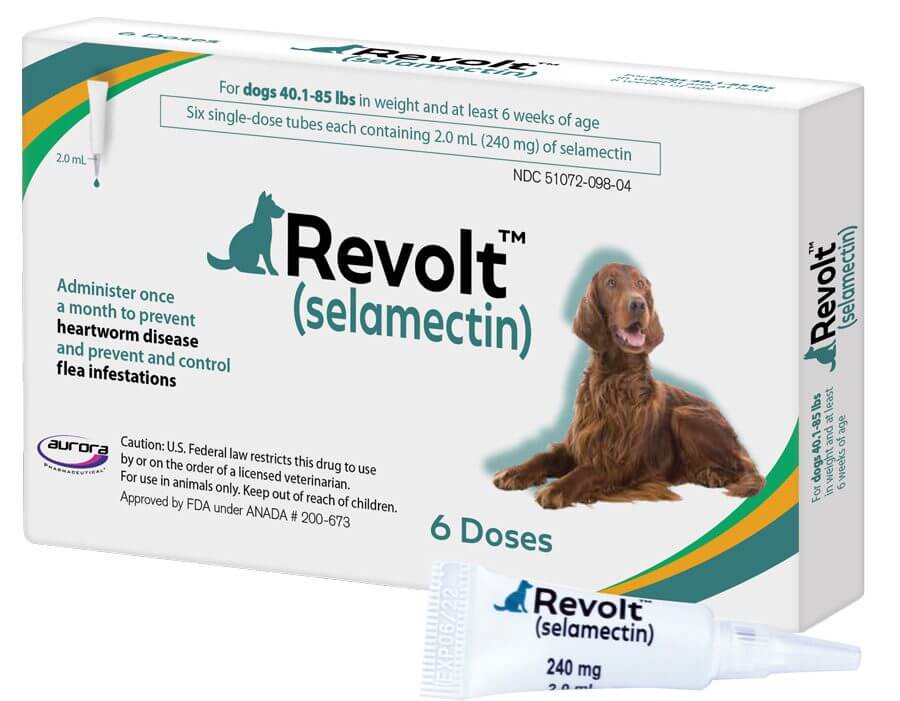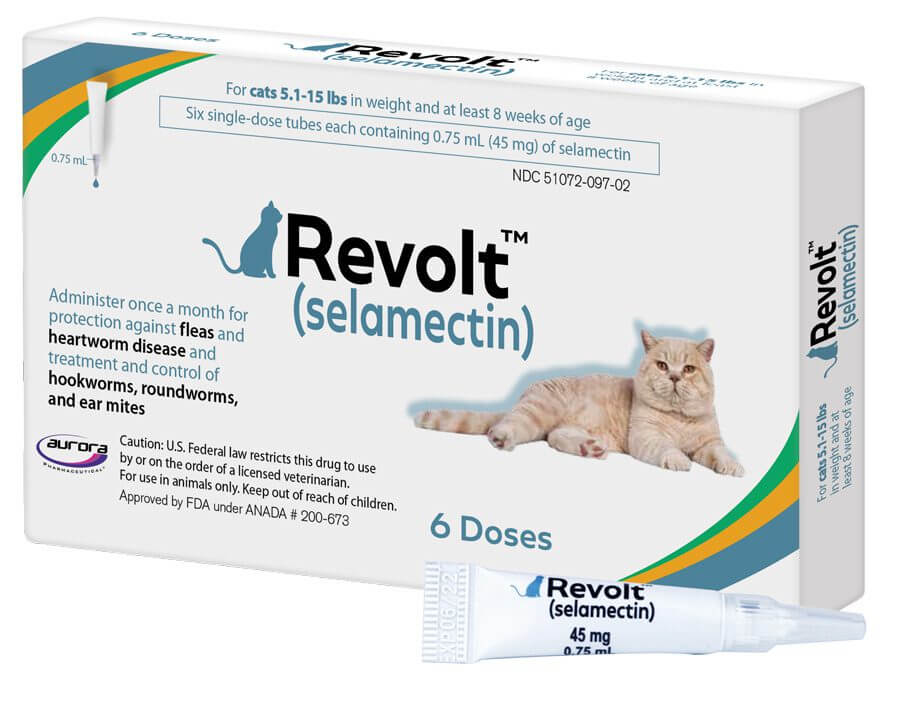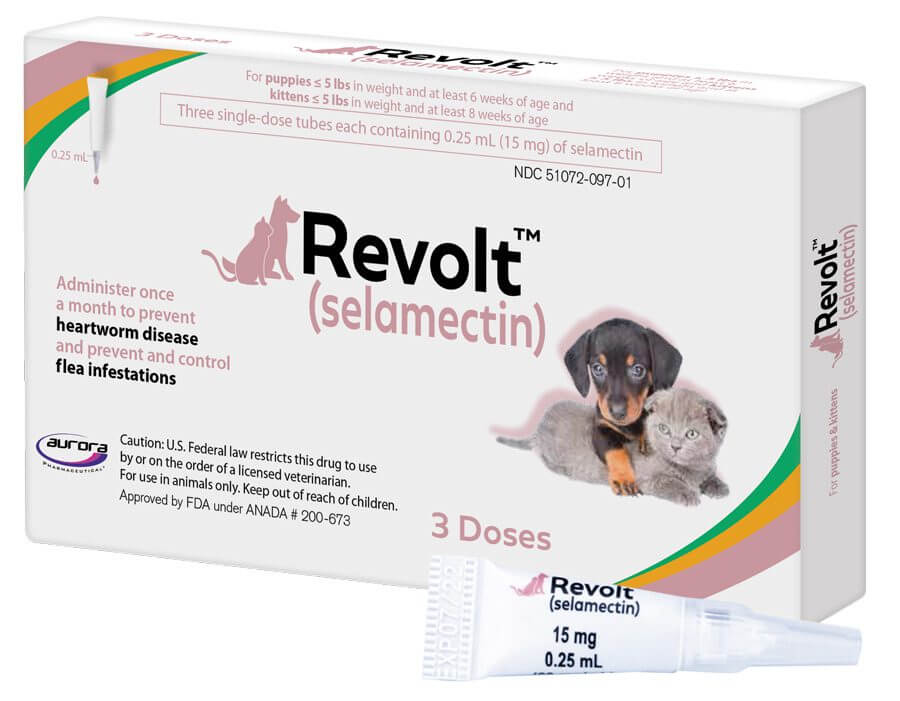 VERY AFFORDABLE
ONCE-A-MONTH TOPICAL
Active Ingredient: Selamectin
Simply Twist-n-Apply, No Cap!
Quick Drying, Non-Greasy Topical Solution
Manufactured in the USA
Best Pricing – ALWAYS!
REVOLT® TOPICAL: EASY TO APPLY
FOR CATS & DOGS
Same Medicine – Better Value – Made in the USA! Revolt® (selamectin) is a highly affordable, once-a-month prevention answer for heartworms, fleas, and a host of other problematic parasites. Revolt® Topical offers the same exact active ingredient and mode of action as the pioneer product, but at greatly reduced pricing.

CATS & DOGS
KITTENS & PUPPIES
Revolt® is recommended for use in dogs six weeks of age and older and cats eight weeks of age and older.

| Package presentation | Package quantity | Reorder # |
| --- | --- | --- |
| Revolt Cat 5.1-15 Ibs. | 6-Pack | 17005 |
| Revolt Cat 15.1-22 Ibs. | 6-Pack | 17007 |
| Revolt Dog 5.1-10 Ibs. | 6-Pack | 16010 |
| Revolt Dog 10.1-20 Ibs. | 6-Pack | 16012 |
| Revolt Dog 20.1-40 Ibs. | 6-Pack | 16014 |
| Revolt Dog 40.1-85 Ibs. | 6-Pack | 16016 |
| Revolt Dog 85.1-130 Ibs. | 6-Pack | 16018 |
| Revolt Puppy/Kitten Up to 5 Ibs. | 3-Pack | 17003 |
| Revolt Cat 15.1-22 Ibs. | 3-Pack | 17006 |
| Revolt Dog 10.1-20 Ibs. | 3-Pack | 16011 |
| Revolt Dog 20.1-40 Ibs. | 3-Pack | 16013 |
| Revolt Dog 40.1-85 Ibs. | 3-Pack | 16015 |
| Revolt Dog 85.1-130 Ibs. | 3-Pack | 16017 |
Clicking a link on this page will open a PDF file in a new window.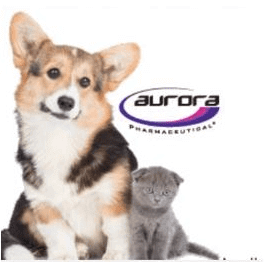 Revolt® is a Trademark of Aurora
Pharmaceutical, Inc. Revolution® is a Registered Trademark of Zoetis, Inc.
"Revolt Topical was super easy to apply, no greasy mess. And I saved a bunch by switching from the other brand!"
"I'm very particular when it comes to the medicines I give my animals. After researching and learning this is the same medicine as the other brand, I gladly switched and saved!"
"My cats are my life! To protect them, I have to count on the best. Revolt uses the same exact formula as the other guys, but costs less and is made in the USA! Highly recommended!"
Revolt® Once-a-Month Topical for Cats & Dogs